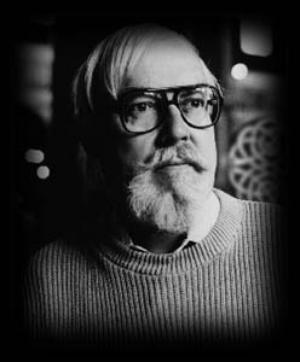 Harry Harrison
(born March 12, 1925) is an American science fiction author best known for his character the Stainless Steel Rat and the novel
Make Room! Make Room!
(1966), the basis for the film
Soylent Green
(1973). He is also (with Brian Aldiss) co-president of the Birmingham Science Fiction Group.
Career
Before becoming an editor, Harrison started in the science fiction field as an illustrator, notably with EC Comics' two science fiction comic books, Weird Fantasy and Weird Science. He has used house names such as Wade Kaempfert and Philip St. John to edit magazines, and has published other fictions under the names Felix Boyd, Leslie Charteris, and Hank Dempsey (but see Personal Life below). Harrison also wrote for syndicated comic strips, creating the Rick Random character. Harrison is now much better known for his writing, particularly his humorous and satirical science fiction, such as the Stainless Steel Rat series and the novel Bill, the Galctic Hero (which satirises Robert A. Heinlein's Starship Troopers).
During the 1950s and 1960s, he was the main writer of the Flash Gordon newspaper strip. One of his Flash Gordon scripts was serialized in Comics Revue magazine. Harrison drew sketches to help the artist be more scientifically accurate, which the artist largely ignored.
Not all of Harrison's writing is comic, though. He has written many stories on serious themes, of which by far the best known is the novel about overpopulation and consumption of the world's resources Make Room! Make Room! which was used as a basis for the science fiction film Soylent Green (though the film changed the plot and theme).
Harrison for a time was closely identified with Brian Aldiss. The pair collaborated on a series of anthology projects. Harrison and Aldiss did much in the 1970s to raise the standards of criticism in the field. In particular, the two edited nine volumes of The Year's Best Science Fiction anthology series as well as three volumes of the Decade series, collecting science fiction of the 1940s, 1950s and 1960s respectively.
In 1990, Harrison was professional Guest of Honour at ConFiction, the 48th World SF Convention, in The Hague, Netherlands, together with Joe Haldeman and Wolfgang Jeschke.
Harrison is a writer of fairly liberal worldview. Harrison's work often hinges around the contrast between the thinking man and the man of force, although the "Thinking Man" often needs ultimately to employ force himself.
Harrison was selected by the Science Fiction and Fantasy Writers of America as the 2009 recipient of their Damon Knight Memorial Grand Master Award.
Personal Life
Harrison was born Henry Maxwell Dempsey (although he did not know this until he was 30, at which point he legally changed his name to Harry Max Harrison). He was born in Stamford, Connecticut, but has lived in many parts of the world including Mexico, England, Ireland, Denmark and Italy. He is an advocate of Esperanto (the language often appears in his novels, particularly in his Stainless Steel Rat and Deathworld series) and was formerly the honorary president of the Esperanto Association of Ireland, as well as holding memberships in other Esperanto organizations such as Esperanto-USA (formerly the Esperanto League for North America), of which he is an honorary member, and the Universala Esperanto-Asocio (World Esperanto Association), of whose Honorary Patrons' Committee he is a member. He served in the United States Army Air Forces during World War II as a gunsight mechanic and gunnery instructor. He lives in the Republic of Ireland and maintains a flat in Brighton for visits to England.
Harrison married Joan (nee Merkler) in 1954 in New York, a marriage that lasted until her death of cancer in 2002. They had two children, Todd (b. 1955) and Moira (b. 1959), to whom he dedicated the book Make Room! Make Room!.